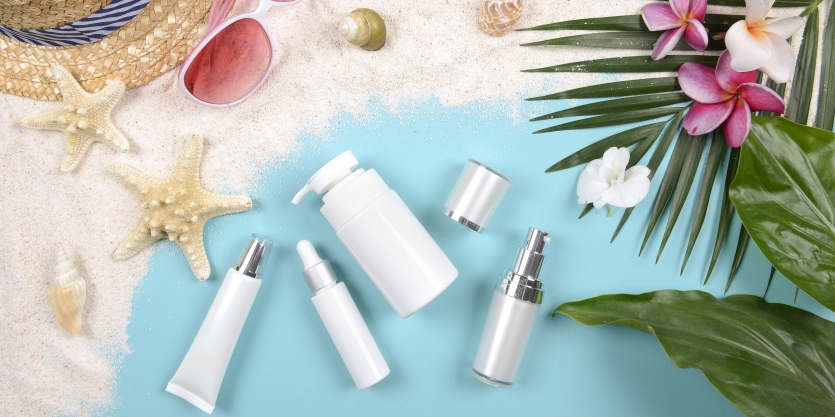 Life is busy enough. Add a trip - even if it's a vacation you need or the scramble to get kids ready for back-to-school, and the busy-ness of life leaves you short on time. But that doesn't mean you should skimp on one of the most important habits for your well-being: proper skincare.
You always hear about the many, many steps of a skincare routine-like it's a race to add more complexity. That doesn't always fit with your busy life. But believe it or not, there is such a thing as a simple skincare routine.
If you find yourself too hurried to make skincare a priority, try implementing these five tips to make a routine that can keep up with you.
1. Care for Your Skin from the Inside
The top skincare tip for busy people is to feed your glow from the inside. The better care you take of your hydration and nutrition, the fewer products you'll need to use to make up for it later.
The golden rule for good-looking skin,especially if you're traveling or spending a lot of time in the sun, heat, or on the go - is to keep yourself and your skin as hydrated as possible. Yes, this means drinking about 64 ounces (about two liters) of water a day.
But also avoid foods and drinks that dehydrate you or cause you to retain fluids: alcohol, refined carbohydrates, and salt. Beware: those cocktails from last night could have you waking up to dark circles and puffiness, and the salty take-out you had for dinner can leave you retaining fluids.
The easiest way to stay hydrated is to take a reusable water bottle with you wherever you go. Look for one that holds at least 32 ounces (or about a liter), or you'll be looking for places to fill up multiple times a day. BPA-free plastic bottles are easy to find and durable. Aluminum bottles are lightweight and tend to keep your water cooler than plastic. Either is a good option.
If you're traveling by air, remember to empty out any water before trying to go through airport security. Otherwise, you may end up having to leave your bottle behind.
For good skin nutrition, cut down on sugars and other simple carbohydrates. And add more lean protein and produce. Omega 3 fatty acids are also essential to maintaining moisture in the skin. So, toss some flaxseeds or walnuts on your lunchtime salad to get a quick boost.
If you're traveling, pay close attention to your in-flight or road-trip nutrition, particularly the sugar and sodium levels. Whole fruit and unsalted nuts are better options than trail mix, chips, or airline peanuts. Ask the flight attendant for herbal tea or water instead of soda pop, coffee, or alcohol. That's because it's easier for your body to get dehydrated at 30,000 feet (10,000 meters).