Empower Your Cells with CellSentials
Your body knows how to create vibrant health. It's coded with inherent cellular intelligence capable of unleashing the best version of you.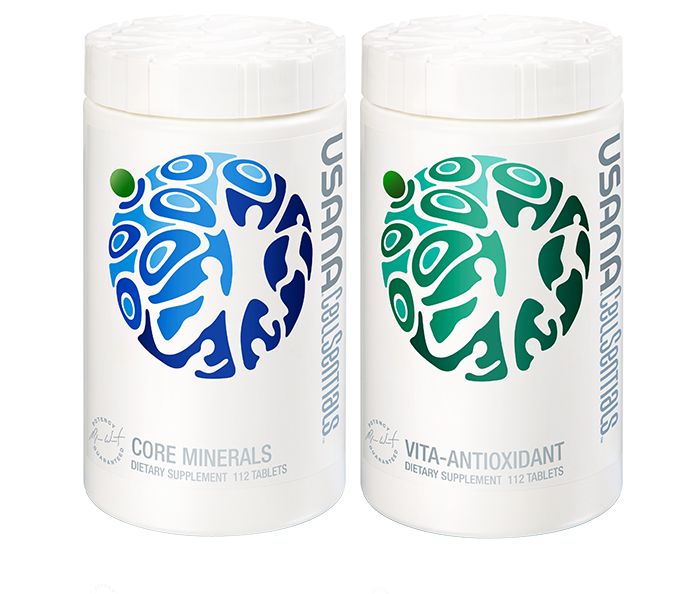 But your body can't do it alone. The toxic symphony of our daily life - a destructive harmony of environment, stress, and lifestyle choices - stifles the cellular communication that creates vibrant health.

You need a powerful signal to help cut through the noise and unlock your cells' natural ability to unleash a healthy, happy you.

You need USANA® CellSentials®.

A Giant Leap Forward
We added revolutionary, patent-pending InCelligence® to the world's highest-rated nutritional supplement to create CellSentials. It's like nothing available today. The powerful combination of Core Minerals and Vita-Antioxidant form the advanced cellular nutrition system your body needs to unlock vibrant health.

CellSentials represents a dramatic step forward in personalised nutrition. Expertise, diligent research, and bold innovation have come together to change the future of cellular nutrition. That's what happens when a man - Dr. Myron Wentz - and a company understand that the best actually can get better.

Three is Better Than One
We've nourished cells around the world for more than two decades. It's kind of our thing, and CellSentials still provides incredible nourishment for your cells.

But we went two steps further - using InCelligence to unlock your cells' natural protective and renewal abilities.

Using our groundbreaking technology, CellSentials supports antioxidant production inside your cells. These antioxidants unlock protection more powerful than antioxidants taken in through your diet.

The powerful, proven nutrients in the InCelligence Complex also communicate with your cells to enhance their natural renewal response. This purification process removes the harmful byproducts of cellular-energy creation, which is key to the health of your cells.

Nourish, protect, and renew are the triple-action support your body needs. And they make CellSentials a very comprehensive, cell-empowering nutrition system available.

Your body knows how to create vibrant health. Now you can give it the help it needs to unlock a healthy, happy you.
From usama.com website